Jerry Mathers
How I got the name "Beaver" on "Leave it to Beaver"

I actually worked with Hugh Beaumont even before we started shooting Leave it to Beaver.  I was cast with him in a promotional film for Rose Hills Memorial Park. One thing I remember is that during a scene, I was supposed to cry on cue.  Hugh asked me if I had ever done that before and I told him, no. He said, "Put your face into your hands and laugh really hard.  It's an old actor's trick because the sound of laughter and crying are very closely related.  Sure enough, I tried it and it worked!  Here is the Rose Hills film: http://www.jerrymathers.com/hugh-beaumont-and-jerry-mathers-rose-hills-memorial-park-commercial/
When we shot the pilot of Leave it to Beaver, Hugh was not the original father.  But, when they re-cast the role for the series, Hugh was one of several people brought in for an audition.  My mother actually suggested for him to go in for the interview!  When I saw him, I was so happy because he was the nice man that I worked with on the Rose Hills shoot.  So, when we read a short scene together, we had a good chemistry and Hugh got the part of Ward Cleaver.  I was very glad that he was picked for the role and we had a wonderful friendship for his entire life until he passed away in 1982 from a heart attack.  Hugh and my dad had become friends and he occasionally came to our house to play cards with my father and some of his friends.
What most people don't know is that Hugh was an ordained minister before Leave it to Beaver.  He graduated with a Master of Theology degree in 1946 from the University of Southern California (USC).  Hugh had a long and illustrious career and did many films and television series in addition to Leave it to Beaver.  One of his most famous characters was Michael Shayne who he played in 5 films.  He was a hard drinking, heavy cigarette smoking detective in this part, in the style of Mickey Spillane.  I think he was much more comfortable as Ward Cleaver because it fit his 'real life" personality so much better!
As I mentioned above, here are some of my mother's cherished memories of Hugh and how she was so instrumental in having him cast as Ward Cleaver!
http://www.jerrymathers.com/my-mothers-memories-of-hugh-beaumont/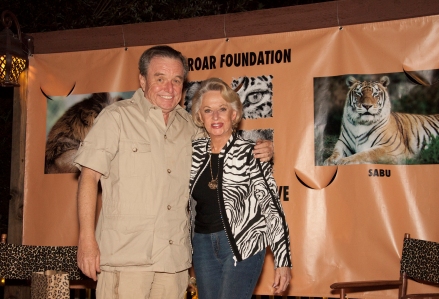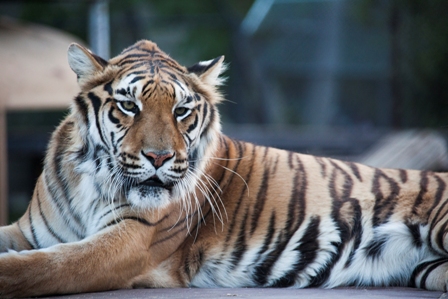 I was so happy to visit with Tippi Hedren at her beautiful Shambala preserve.  She and her staff are dedicated to allow the magnificent animals at Shambala to live out their lives with love and dignity. Each "Wild One" has the best human, nutritional, medical, emotional, and mental care possible. The great photos here were taken by Bill Dow.

Barbara Billingsley was a good friend and an even better mentor.  For me she was like the favorite teacher that we all had in school.  I was lucky enough to work with her for six years and have a life-long relationship with her.  She was a very kind woman and a generous philanthropist who supported many charities always ready to give anyone in need a helping hand.  Barbara was even more sparkling and fun than June Cleaver.  Every once in a while she would get frustrated or upset and we always knew when that was because she would say, "Hell's bells" and then put her hands over her mouth with her cutest "oops" look.  This was the only "curse word" that I ever heard her say.  And she always looked flustered and turned red when she realized that other people had heard her say that.  She would then apologize profusely.
Barbara was always eager to teach a rambunctious lad (i.e. Me) proper civility and manners.   An example of this was when I would rush ahead of her to see what was beyond the next door.  She would reach up and grab me by the very short hairs at the nape of my neck and pull me back very gently and say, "Jerry, ladies always go first."  And, this is what she was—a truly regal lady.  I miss her very much.
Leave it to Beaver 50th Anniversary – 2007 – Good Morning America
Happy anniversary Leave it to Beaver!  Our very first episode aired on October 4, 1957 and we then shot 235 episodes.  The last first-run was in June of 1963.   The show then went into re-runs and is still airing today…the longest running scripted show in television history!
Leave it to Beaver has had a great run and it is still relevant and humorous.  I am glad to have had the privilege of being a part of this iconic television phenomenon which has made me friends all over the world.  I truly treasure all my memories of the cast, crew and fans, many of whom are lifelong friends.  When I look back, all of this has contributed to a great life!
         

BzS – The Business Spotlight Webisode Series
When I was doing research to learn about website building I found out that it is very important to provide as much video content on my site as possible because nothing drives traffic to a website and builds rapport better than video.  In addition to the videos from projects that I have done throughout my acting career, I also wanted to include information on my website about how important it is to brand my business.   Acting and public speaking  are my professions and need marketing exposure as much as any other business.
I recently shot this video to help promote my brand with my my dear friend Sue Berry.  She is the Executive Producer of BzS which is a business spotlight webisode series.  It was fun doing the interview with BzS host Bella Shaw who you may recognize from her 10 years as a CNN news anchor.
If you have a small to midsize business in the Southern California area, and would like more information regarding how you could have an affordable marketing video produced for your company, please contact Sue at  http://bzspotlight.com/.   And, tell her I sent you!
I had a great time at The Big Bang Theory set at Warner Bros. studios in Burbank, California for The Academy of Television Arts and Sciences dialogue for members, with the entire cast and executive producers Chuck Lorre, Steve Molaro, and Bill Prady.  A highlight of the night was seeing my longtime friend Bob Newhart who has a recurring role on the show.  And, it was great meeting Johnny Galecki who plays Leonard in the series.  The actors have just started shooting their 7th season and the show has 8 Emmy nominations this year!  Good luck to the cast & crew!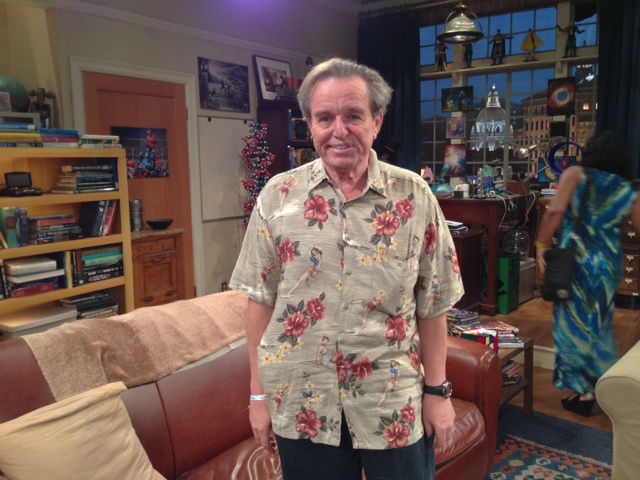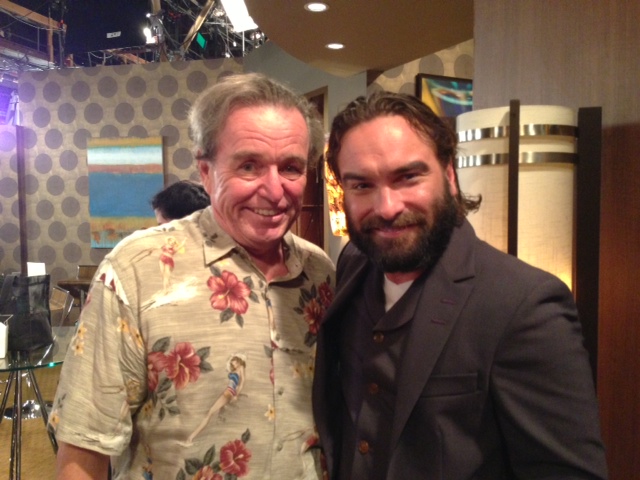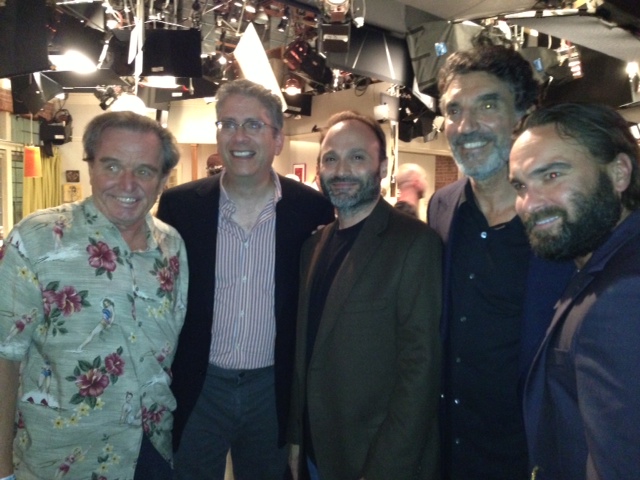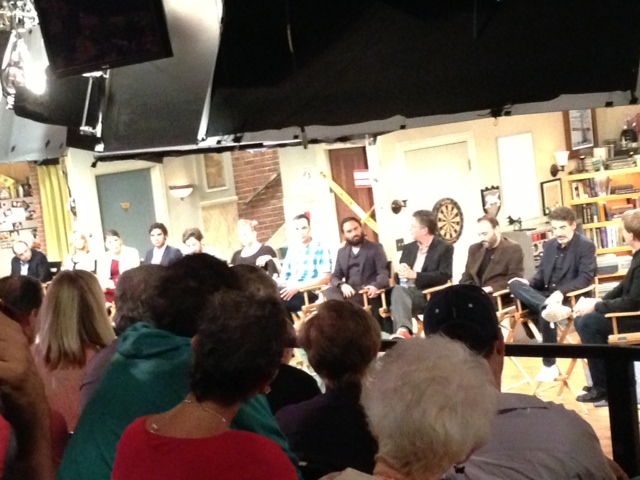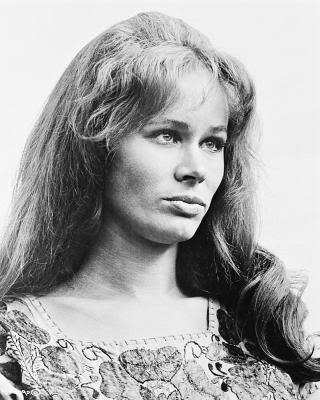 Tribute to Karen Black
By Lee Purcell                                                                                                                                                                                                                                             I have been trying to write something profound, eloquent and meaningful about the passing of my best friend Karen Black, and it is tough for me…I will say she was the bravest soul possible in these last three difficult years, and still so full of life and curiosity and love and wit and charm. She fought and fought and fought some more, and in the end, went out on her her own terms, just as she lived her life.Her husband Stephen was a saint, he never wavered in his support and adoration of her, and never lost his sense of humor and warmth, even in the most dire of circumstances.Her children Celine, Hunter and Diane showed her the love for which any mother would be eternally grateful. Her loving brother and sister and many other family members stood resolutely by her in these difficult times, and they and her countless friends never gave up. And of, course, her many fans from her long and varied career as one of the greatest actresses who ever lived, prayed and donated and gave her so much love.Some people know she was also a gifted writer, singer, musician, and composer, but not so many know she was additionally a gifted artist, photographer, cook, avid board and word game player and on and on. Karen was truly a Renaissance woman.
For me, she was the big sister I didn't get by birth, but she found me anyway. She was one of the first people I met when I became a working Hollywood actress, and it was my privilege to call her my best friend for my entire adult life, and I will miss her beyond words, but I am happy for her to be free of pain and… just free. We will see her again, and it will be gloriously and unmistakably her.
So, my dear spiritual soul sister, no RIP for you, because I know you won't.  Not a fat chance!  But, rather, Bon Voyage, see you later, gator…miss you already and always.
I will be attending this fun All-Star Concert event in Baton Rouge, Louisiana on September 9th, 2013 at the Marriott Baton Rouge Hotel ballroom!
Please come join us for a wonderful cause — to help kids with special needs.  Lots of great music!
If you would like VIP Tix, please contact my friend Scott Innes at:  scottinnes1015@hotmail.com, and tell him I sent you!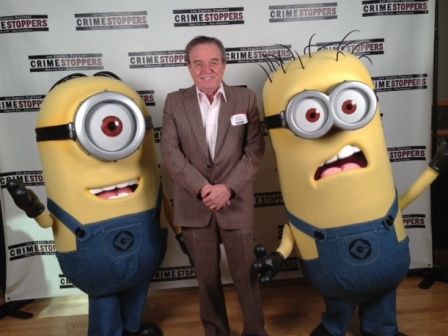 I recently attended the Los Angeles Crime Stoppers 2013 Awards Reception event at Universal Studios along with my Despicable Me 2 friends!
The organization works with LA County Sheriff Lee Baca, LAPD Chief Charlie Beck, the Mayor's office, and 44 law enforcement agencies in Los Angeles County and offers the public a secure and anonymous system of reporting tips.  They provide financial rewards of up to $1,000 to individuals who provide information leading to an arrest. Rewards become a key incentive to encourage those who would otherwise not offer information related to a crime.
The Los Angeles Regional Crime Stoppers program (LA Crime Stoppers) is a 501(c)(3) non-profit organization that works in partnership with the community, the media and law enforcement to solve crime and create a safer community.   All contributions to LA Crime Stoppers are tax deductible.
There are more than 300 Crime Stoppers organizations in the United States and over 1,400 worldwide. This program has proven to be an asset to any community, with over eight hundred and fifty thousand arrests made, over one point two million crimes cleared, and eight billion dollars in property and drugs recovered in the last 33 years.