Jerry Mathers
On Saturday, July 13, 2013 I will be participating with the Care Foundation Block Party fundraiser at Paramount Studios in Hollywood.  The event will take place on the "New York" backlot at the studio and it will be a very fun event for a great cause.  Chuck and Ava Fries will be honored and they have made numerous contributions to the television and film industry.
Founded in 1968, Concern Foundation is an independent, volunteer driven non-profit organization dedicated to raising and granting funds to support cancer research world wide.
Concern has provided grants to over 650 gifted cancer researchers at major institutions locally, nationally and around the world.  With $.95 of every dollar given to research, over $50 Million has been raised and granted to make significant contributions that are moving us closer to our vision of conquering cancer.
Click here to learn more about the event:  http://www.concernfoundation.org/events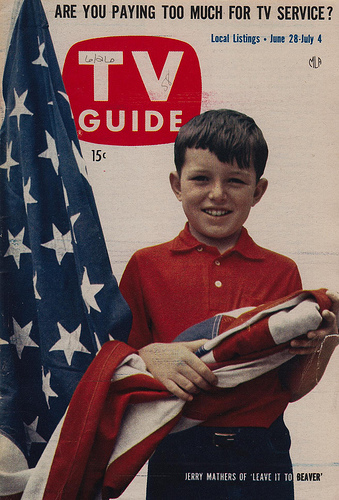 Here is my article from the 1958 issue of TV Guide!…
TV Guide, June 28th, 1958
Master Jerry Mathers who is 65 pounds dripping wet and is by his own admission, known a heckuva lot better as TV's Beaver Theodore Cleaver, recently submitted to an interview on what it's like to be 10 years old and the star of your own successful television show. The show of course is CBS's Leave It To Beaver, a lively chronicle of doings in the slingshot set of the season's surprise hit, but incidentally it moves to ABC next fall. The interview took place in the producer's office.
The star showed up bright eyed, mother in tow, wearing powder blue cords, a spanking new leather motorcycle jacket with ivy league belt, two blue eyes, and a smile wrapped several times around his face. He stashed his mother outside the door and plunked himself down in the producer's chair. Acting he said is, "OK for kids, real keen, it really is", but he added, beginning to bounce, "when I grow up I want to be something really good – a court lawyer who tries murders and stuff like that."
While we were busy ruminating on the happy fact that the real life Beaver was all boy and a yard wide, Jerry explained his plan to be a, "private eye first, 'cause to be a lawyer, my Dad says you gotta know about the police and what they're doing."
Just then a press agent produced a note filling in some highlights of Mather's career. Jerry was born June 2, 1948, in Soux City, Iowa. Jerry's father came to California shortly thereafter to become special counselor at Birmingham General High School in the San Fernando Valley. Jerry's career began at the age of two when his mother took to heart a well intention sales lady's suggestion that he ought to be in television. Presto, he landed on the Ed Wynn Show. This led to more television and later to movies. The most recent being Alfred Hitchcock's The Trouble with Harry and Bob Hope's The Seven Little Boys. "'Course, I don't remember much about that first show," the Beaver was saying, "I did that when I was little."
Beaver in real life has a sister named Susie who is 7, a brother named Jimmy who is 3, a cat named Tuffy and a dog named Ron Ton Ton. "We all watch The Beaver show together," he explained. "My little brother gets up and marches around the room pointing at the TV set and yelling 'Beaver Beaver Beaver'." Sometimes he's a pest. "My dog, his great great great great grandfather was Rin Tin Tin. Honest! And oh, yea, I got an ant farm too, you know, one of those glass things where you can watch the ants dig tunnels."
We resisted the temptation to ask how the ants enjoyed the show and settled for a discussion on parents and little sisters. Beaver, most of his friends now call him Beaver instead of Jerry, said he could give almost unqualified approval of his parents. "Mine are real swell, really." And of sisters? "Most of the time, except when they're being pests and wanting to do something you don't want to do." On television, Beaver isn't supposed to like girls but he, Jerry Mathers does. What girls? "I don't think I'm going to tell you.
Jerry explained how he was an expert pitcher, little league aspirant, cub scout, and crack shot with a trusty air rifle. "Yesterday, I shot four nines and a bulls eye. And oh yeah, I'm a rockhound. That means I collect rocks" "What kind?" "Oh, different kinds. Say, if you see any, will you bring some back for me, huh?"
For some reason, this lead into a discussion of dramatic art, Beaver variety. The Beaver who reportedly earns a weekly $500 for said art, said he was never scared before a camera. "Mr. Tokar, he's our director, shows me how to do it. If it's a big dramatic scene, if it's not a big dramatic scene – he shows me how to do it anyways." Crying for the camera is duck soup to a man of the Beaver's resources.
"I just think of something sad like what Beaver would be thinking of, like losing a dog if Ron Ton Ton was sick or something, then I can cry real good." As for those scrapes the fictional Beaver keeps getting into, well, the real life Beaver confesses to a few doubts. Confidentially he says, squinting and bouncing up and down three times, "I don't think any one body could get into all those messes. Six or seven maybe, but not 40 or 50 or a 100 messes. Then you take Tony Dow. He plays the Beaver's older brother, Wally. He's not really realistic. A bigger boy wouldn't be so dumb as he is in our script. I mean, a bigger boy would find a way out of all those messes that works."
"Of course," he added reflectively, "most boys do get caught." Beaver and 13 year old Tony Dow get along fine on the set in the studio school where they're classmates. They read each other's passages from the Beaver's favorite book, Rip Van Winkle. "Everybody must read it," the Beaver said. "It's very educational. Real swell. Really."
The Beaver rises at 6:30 a.m., rides in to the studio from Canoga Park, puts in a full day and gets home at 6:45 p.m. "I eat, study my lines, and it's time for bed." As for school, "Generally, well, adding is OK. I don't like division though. Spelling depends on how much time they give you."
On weekends his dad frequently takes him out shooting with his air rifle or simply down to the Rifleman's Association shooting range for a little target practice. His favorite Beaver shows he thinks are the episodes called The Haircut, Captain Jack, and Brotherly Love. We made careful note of this as being particularly significant until the Beaver went on to amend the list with 25 others that have been shot thus far as also being his favorites. By the end of that recital he was breathless and so were we.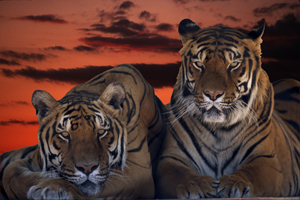 The Roar Foundation, was founded by actress Tippi Hedren in 1983 to support the exotic felines at  the Shambala Preserve in Acton, California.  The mission is to educate the public about the dangers of private ownership of exotic animals.  Shambala is home to over 50 rescued big cats: lions, tigers, cougars, black and spotted leopards, bobcats, and Asian leopard cats, who live out their lives at Shambala.
Large numbers of dangerous animals are bred and sold for illegal purposes in the United States.  The foundation supports more stringent legislation to protect these animals from cruel and unfair treatment.
Tippi Hedren has done many legendary films and she is the star of Alfred Hitchcock's The Birds.  She is the mother to actress Melanie Griffith and is the President of the Roar Foundation, the group that funds Shambala.  She believes that she has found her calling by providing homes for all of these beautiful rescued animals.
Here are some additional beautiful photos on my website at Shambala shot by Bill Dow:                                          

http://www.jerrymathers.com/shambala-photos/
For more information please visit the Shambala website at:  

http://www.shambala.org/
Photo by Bill Dow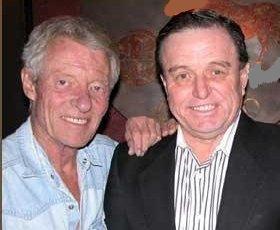 Here's is my chance to wish my good friend former LAPD motorcycle officer Ken Osmond aka Edward Haskell, a happy 70th birthday.  Ken, I know what a terrific actor you are.  You brought to life a mischievous villain that is so much NOT like you that it's hard for me to believe that you could play such a great character so different from the real you.  Who would have thought that the name "Eddie Haskell" would become synonymous with all the things that Ken Osmond isn't!
What many people don't know is that Kenny also had other great acting roles including the film Pilgrim Adventure with Spencer Tracy and Gene Tierney, Lassie, The Adventures of Ozzie and Harriet, Fury, Petticoat Junction, and The Munsters to name just a few.
Kenny then changed professions and in 1970 he joined the Los Angeles Police Department (LAPD).  He was an active member of the force until he was shot in the line of duty on September 20, 1980.  His bulletproof vest and belt buckle saved his life. He eventually retired from the LAPD in 1988.  Because of this he was able to join the cast of The New Leave it to Beaver and reprise his role as the two-faced protagonist to Beaver and the Cleaver clan.
To a great guy on his 70th birthday — it doesn't sound so bad being that old because I just hit 65 on June 2nd and it didn't hurt a bit. Happy birthday Ken!
Jerry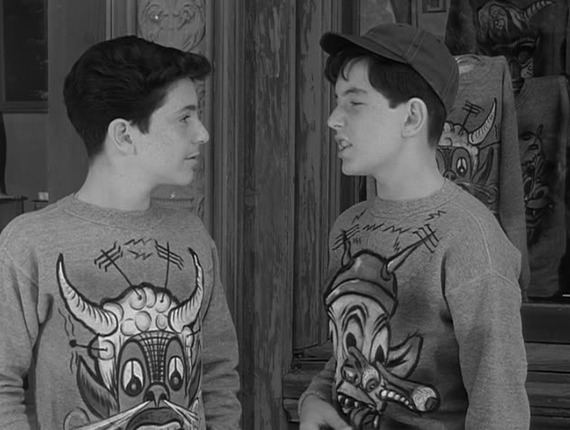 I'm looking forward to a great time tonight at my long time friend Richard Correll's 65th birthday celebration at an historic Hollywood hotel.
Richard played "Richard Rickover" in  Leave it to Beaver.  He was not only a character on the show, but my best friend growing up.
We spent many weekends at each other's houses getting into mischief…typical adolescent pranks!
After Richard graduated from high school and while he was at USC's film school, he worked extensively with the Harold Lloyd estate.
Richard has had an incredible career as a top Hollywood television director, producer and writer.  Some of his credits include Family Matters, Full House, Hannah Montana, That's So Raven, The Suite Life of Zack and Cody, and Perfect Strangers to name only a few.  He wrote episodes for Happy Days early in his career.
Richard has always been a very good friend and I look forward to sharing many more birthdays with him!

I'm looking forward to the "Salute to Seniors" event on May 15, 2013 at the Colorado Convention Center in Denver, Colorado.  I will be speaking about the Golden Age of Television and my experiences as a child actor when I worked with Alfred Hitchcock, Bob Hope and many others.
I will share some of my memories and anecdotes about my years on Leave it to Beaver, and there will be an opportunity for personalized autographs and photos for the convention guests in the Cleaver living room setting sponsored by Kaiser Permanente.
Here is the link where you can learn more about the convention activities and ticket prices.
Hope to see you there!!!

Here is the line-up for the Leave it to Beaver marathon on Antenna TV!
These are east coast times.
Sunday, April 28
9:00 AM Leave It to Beaver "Beaver's Hero"
9:30 AM Leave It to Beaver "The Boat Builders"
10:00 AM Leave It to Beaver "Beaver Becomes a Hero"
10:30 AM Leave It to Beaver "Beaver's Freckles"
11:00 AM Leave It to Beaver "Beaver Plays Hookey"
11:30 AM Leave It to Beaver "The Garage Painters"
12:00 PM Leave It to Beaver "Beaver's Pigeons"
12:30 PM Leave It to Beaver "The Haunted House"
1:00 PM Leave It to Beaver "Beaver and Gilbert"
1:30 PM Leave It to Beaver "The Bus Ride"
2:00 PM Leave It to Beaver "A Horse Named Nick"
2:30 PM Leave It to Beaver "Beaver Says Good-Bye"
3:00 PM Leave It to Beaver "Beaver's Newspapers" 
3:30 PM Leave It to Beaver "Friendship"
4:00 PM Leave It to Beaver "Dance Contest"
4:30 PM Leave It to Beaver "The Cookie Fund"
5:00 PM Leave It to Beaver "Forgotten Party"
5:30 PM Leave It to Beaver "Beaver the Athlete"
6:00 PM Leave It to Beaver "Found Money"
6:30 PM Leave It to Beaver "Most Interesting Character"
7:00 PM Leave It to Beaver "Wally's Play"
7:30 PM Leave It to Beaver "Beaver Finds a Wallet"
8:00 PM Leave It to Beaver "Baby Picture"
8:30 PM Leave It to Beaver "Pet Fair"
9:00 PM Leave It to Beaver "Wally's Election"
9:30 PM Leave It to Beaver "School Sweater"
10:00 PM Leave It to Beaver "Beaver Makes a Loan"
10:30 PM Leave It to Beaver "Larry's Club"
11:00 PM Leave It to Beaver "Wally and Alma"
11:30 PM Leave It to Beaver "Beaver's Big Contest"
Monday, April 29
12:00 AM Leave It to Beaver "Beaver Won't Eat"
12:30 AM Leave It to Beaver "Wally's Glamour Girl"
1:00 AM Leave It to Beaver "Wally the Lifeguard"
1:30 AM Leave It to Beaver "Beaver's IQ"
2:00 AM Leave It to Beaver "Eddie's Double-Cross"
2:30 AM Leave It to Beaver "Miss Landers' Fiance"
3:00 AM Leave It to Beaver "Chuckie's New Shoes"
3:30 AM Leave It to Beaver "Ward's Millions"
4:00 AM Leave It to Beaver "Teacher's Daughter"
4:30 AM Leave It to Beaver "Beaver and Kenneth"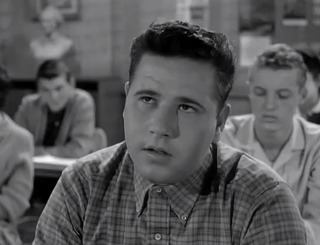 Here is my good friend Frank Bank in a clip from Leave it to Beaver.  Even though he played a lovable oaf on the show, in real life he was a very bright and terrific actor.  He was also a successful licensed financial adviser.   He will be missed…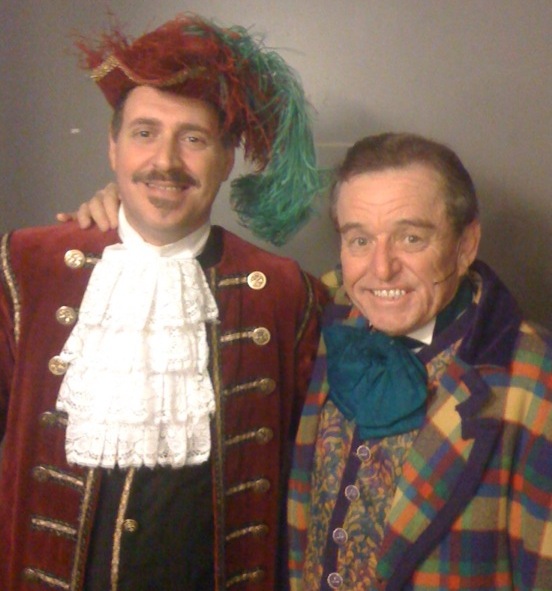 A description about my interview with Frank Sheftel on LA Talk Radio —     March 24, 2013 
FRANK TALK is thrilled to welcome on the show Jerry "The Beaver" Mathers. Frank & Jerry talk about the history of Leave it To Beaver and how Jerry landed the iconic role of Theodore "Beaver" Cleaver. Jerry talks about working on Broadway, his friendship with Alfred Hitchcock and his battle with Diabetes. Frank also talks about attending Chaka Khan's 60th birthday party.
Here is a link to the interview —
http://www.latalkradio.com/Players/Sheftel.shtml?date=March+24,+2013&file=032413
This is a photo of Frank and I when we did a play together in 2010.  It was the theatrical debut of Cinderella, the first British Panto performed in the United States (an 800 year old English tradition).  I played Baron Hardup and it was produced by the Lythgoe family.