Florence Henderson
Here is a tribute to some of the great TV moms!  Who are some of your favorites?
Remembering TV mothers
June Cleaver, portrayed by Barbara Billingsley, talks with her son, Beaver, played by Jerry Mathers in an episode of "Leave it to Beaver." (Special photo)
From left are Mackenzie Phillips, Ann Romano and Valerie Bertinelli of "One Day At A Time." (Special photo)
Phylicia Rashad and Keshia Knight Pulliam starred as Claire and Rudy Huxtable on "The Cosby Show." (Special photo)
Wendi McLendon-Covey's Beverly Goldberg masters the art of "smothering" on "The Goldbergs." (Special photo)
The Ingalls family of "Little House on the Prairie," was led by matriarch Caroline Ingalls, played by Karen Grassle. (Special photo)
Happy Mother's Day to one and all; enjoy this very special day with your mom. Remember the good times and how she helped shape your life. If you are blessed to be able to spend this day with your mother, treat it as a special gift because that's precisely what it is.
Lavish her with love and affection because the day will come when you wish you could.
Believe me, I know.
And, remember, the most important thing you can give her is your presence and not presents.
In addition to our biological mothers, there have been a lot of moms who entered our houses on a regular basis during the past six decades through the medium of television.
Some were kind, caring and loving.
Others were off the proverbial wall.
Here is a list of some of the best-known TV mothers who spent time with us on a weekly basis.
Hope you enjoy the trip down television's memory lane with some of the medium's most renowned mothers and their children.
The list starts with Gertrude Berg as Molly Goldberg, believed to be television's first mother, in "The Goldbergs." The show first aired in 1949 – a whopping 65 years ago. The list concludes with Wendy McLendon-Covey who plays Beverly Goldberg on "The Goldbergs," the highly rated first-year series.
The list is in chronological order and includes shows from the major networks and excludes animated series.
Molly Goldberg (Gertrude Berg) – "The Goldbergs," 1949-54. Child: Sammy (Larry Robinson).
Gracie Allen (herself) – "George Burns & Gracie Allen Show," 1950-58. Child: Ronnie (himself).
Lucy Ricardo (Lucille Ball) – "I Love Lucy" 1951-57. Child: Little Ricky (Joseph A. Mayer and Michael Mayer).
Harriet Nelson (played herself) — "The Adventures of Ozzie & Harriet," 1952-66. Children: David and Ricky (played themselves).
Margaret Anderson (Jane Wyatt) – "Father Knows Best" 1954-60. Children: Betty (Elinor Donahue), Bud (Billy Gray) and Kathy (Lauren Chapin).
June Cleaver (Barbara Billingsley) – "Leave it to Beaver" 1957-63. Children: Wally (Tony Dow) and Theodore "Beaver" (Jerry Mathers).
Donna Stone (Donna Reed) – "The Donna Reed Show" 1958-66. Children: Mary (Shelly Fabares), Jeff (Paul Petersen) and Trisha (Patty Petersen).
Laurie Petrie (Mary Tyler Moore) – "Dick Van Dyke Show" 1961-66. Child: Richie (Larry Mathews),
Samantha Stevens (Elizabeth Montgomery) – "Bewitched" 1964-72. Child: Tabitha (Erin Murphy).
Carol Brady (Florence Henderson) – "The Brady Bunch" 1969-74. Children: Marcia (Maureen McCormick), Jan (Eve Plumb), Cindy (Susan Olsen), Greg (Barry Williams), Peter (Christopher Knight) and Bobby (Mike Lookinland).
Shirley Partridge (Shirley Jones) – "The Partridge Family" 1970-74. Children: Keith (David Cassidy), Laurie (Susan Dey), Danny (Danny Bonaduce), Tracy (Suzanne Crough) and Chris (Brian Forster).
Edith Bunker (Jean Stapleton) – "All in the Family" 1971-79. Child: Gloria (Sally Struthers).
Olivia Walton (Miss Michael Learned) – "The Waltons" 1971-81. Children: John-Boy (Richard Thomas and Robert Wightman), Jason (Jon Walmsley), Mary Ellen (Judy Norton), Ben (Eric Scott), Erin (Mary McDonough), Jim-Bob (David W. Harper) and Elizabeth (Kami Cotler).
Florida Evans (Esther Rolle) – "Good Times" 1974-79. Children: JJ (Jimmie Walker), Thelma (BernNadette Stanis) and Michael (Ralph Carter).
Marion Cunningham (Marion Ross) – "Happy Days" 1974-84. Children: Chuck (Gavan O'Herlihy), Richie (Ron Howard) and Joanie (Erin Moran).
Caroline Ingalls (Karen Grassle) – "Little House on the Prairie" 1974-83. Children: Mary (Melissa Sue Anderson), Laura (Melissa Gilbert) and Carrie (Lindsay and Sidney Greenbush).
Ann Romano (Bonnie Franklin) – "One day at a Time" 1975-84. Children: Julie (Mackenzie Phillips) and Barbara (Valerie Bertinelli).
Kate Lawrence (Sada Thompson) – "Family" 1976-80. Children: Nancy (Meredith Baxter Birney), Willie (Gary Frank) and Buddy (Kristry McNichol).
Elyse Keaton (Meredith Baxter) – "Family Ties" 1982-89. Children: Alex (Michael J. Fox), Mallory (Justine Bateman) and Jennifer (Tina Yothers),
Clair Huxtable (Phylicia Rashad) – "The Cosby Show" 1984-92. Children: Sondra (Sabrina LeBeauf), Denise (Lisa Bonet), Theo (Malcolm-Jamal Warner), Vanessa (Tempestt Bledsoe) and Rudy (Keshia Knight Pulliam).
Angela Bower (Judith Light) – "Who's the Boss?" 1984-92. Child: Jonathan (Danny Pintauro).
Maggie Malone Seaver (Joanna Kerns) – "Growing Pains" 1985-92. Children: Mike (Kirk Cameron), Carol (Tracey Gold), Ben (Jeremy Miller) and Chrissy (Ashley Johnson).
Peg Bundy (Katey Sagal) – "Married … With Children" 1987-97. Children: Kelly (Christina Applegate) and Bud (David Faustino).
Norma Arnold (Alley Mills) – "The Wonder Years" 1988-93. Children: Karen (Oliva d'Abo), Wayne (Jason Hervey) and Kevin (Fred Savage).
Roseanne Conner (Roseanne Barr) – "Roseanne" 1988-97. Children: Becky, (Alicia Goranson), Darlene (Sara Gilbert), and D.J. (Michael Fishman).
Katharine Howser (Belinda Montgomery) – "Doogie Howser" M.D. 1989-93. Child: Doogie (Neil Patrick Harris).
Vivian Banks (Janet Hubert-Whitten and Daphne Maxwell Reid) – "Fresh Prince of Bel-Air" 1990-96. Children: Carlton (Alfonso Ribeiro), Hillary (Karyn Parsons) and Ashley (Tatyana M. Ali).
Jill Taylor (Patricia Richardson) – "Home Improvement" 1991-99. Children: Brad (Zachery Ty Bryan), Randy (Jonathan Taylor Thomas) and Mark (Taran Noah Smith).
Nora Walker (Sally Field) – "Brothers & Sisters" 2006-2011. Children: Kitty (Calista Flockhart), Sarah (Rachel Griffiths), Kevin (Matthew Rhys), Tommy (Balthazar Getty) and Justin (Dave Annable).
Claire Dunphy (Julie Bowen) — "Modern Family" 2009-present. Children: Alex (Ariel Winter), Haley (Sarah Hyland) and Luke (Nolan Gould).
Beverly Goldberg (Wendy McLendon-Covey) — "The Goldbergs" 2013-present. Children: Adam (Sean Giambrone), Barry (Troy Gentile) and Erica (Haley Orrantia).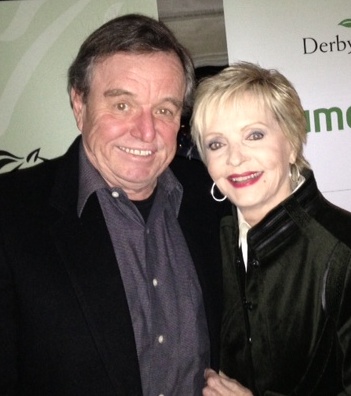 My friend Florence has appeared on numerous television shows, many memorable films and even award winning musicals.  Of course she is best known for her role as Carol Brady on the ABC sitcom The Brady Bunch from 1969 to 1974.  With this role, Florence was ranked by TV Land and Entertainment Weekly as one of the 100 Greatest TV Icons!
Did you know that her best friend, Shirley Jones  had previously turned down the role because at the time she wasn't ready to do a TV series and she needed to spend more time with her children and stepchild.
Since 2008, Henderson has been the host of her own television series, The Florence Henderson Show, which airs on RLTV (Retirement Living TV).  The show was nominated for an Emmy Award in 2010.  I was even on as one of her  many guests!
She looked like she had so much fun on Dancing with the Stars!  I know it was a lot of work and she made it look so easy!
If you are interested, here is a link to The Brady Bunch DVD, Seasons 1-5!    amzn.to/WLSYP4