Indiana Tech commencement speech
"Leave It To Beaver" icon will speak at Indiana Tech University
Indiana Tech University news – February 9, 2016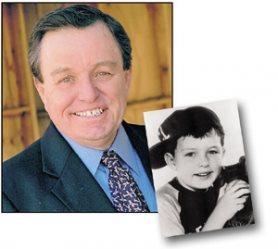 American television icon, Jerry Mathers, better known as The Beaver from the late-50s/early-60s television series "Leave It To Beaver," will be the speaker for Indiana Tech's commencement at Allen County War Memorial Coliseum on Saturday, May 14, at 10:30 a.m.
Mathers entered the hearts and homes of America in 1957 as Theodore "Beaver" Cleaver. An immediate success, the show gained national attention and ran for six seasons, totaling 234 episodes. In addition to his noted works as a television actor, Mr. Mathers achieved great success on the big screen and on stage. In fact, he made his Broadway debut in 2007 as Wilbur Turnblad in the Tony-winning musical "Hairspray" at the Neil Simon Theater.
In the mid-1990s, Mr. Mathers was diagnosed with Type 2 diabetes. He took preventive action, lost 55 pounds and is currently one of the leading lecturers on living with and dealing with diabetes. He has been invited to share his experience with diabetes on "Larry King Live" numerous times and has spoken to the congressional caucus on diabetes at the Capitol. Jerry also speaks with the media to alert individuals about the importance of early diagnosis, diet and exercise and the proper treatment of diabetes.
In 2009 and 2010, Jerry was the national spokesperson for PhRMA and their Partnership for Prescription Assistance program. This organization helps uninsured and financially struggling patients obtain prescription medicines for free or at a lower cost. The program is a nationwide effort, sponsored by America's pharmaceutical research and manufacturing companies to raise awareness of patient assistance programs and address the rising rates of chronic disease.
"Indiana Tech is pleased to have television icon and worldwide champion for those with diabetes, Jerry Mathers, join us as this year's commencement speaker," said Indiana Tech President Arthur E. Snyder. "We look forward to having him join us on our university's biggest day of the year to share his inspirational message with our students."
3 Responses to Indiana Tech commencement speech