tjmathers
Leave it to Beaver 60th Anniversary Memories
It's hard to believe that our television show Leave it to Beaver has now been continuously airing since its premier on October 4th, 1957.  For me, it has always been a great adventure. At the young age of 8 years old, I was starting on a life's journey that has not only enriched me, but has brought me countless fans and friends all over the world.  Who would have thought that such a simple tv show titled Leave it to Beaver about a boy and his brother growing up in a small town in mid- America in the 50's and 60's would ultimately become the longest continuously running show in television history.
As I look back over these last 60 years, the greatest gift that this wonderful program has always given me is all of the friends, fans and acquaintances that I have made who were a direct outcome of such a simple show. The Leave it to Beaver story lines were taken from real life and the situations that occurred then are still relevant and happening to children and families today.  Lifestyles and fashions may have changed but the perspective of a child's view of the adult world while growing up, is still relevant, relate-able and fun to watch.  I wish to thank all of my many fans over these 60 years for enjoying the show along with me and hope that the family values of Leave it to Beaver will continue to be relevant and timeless.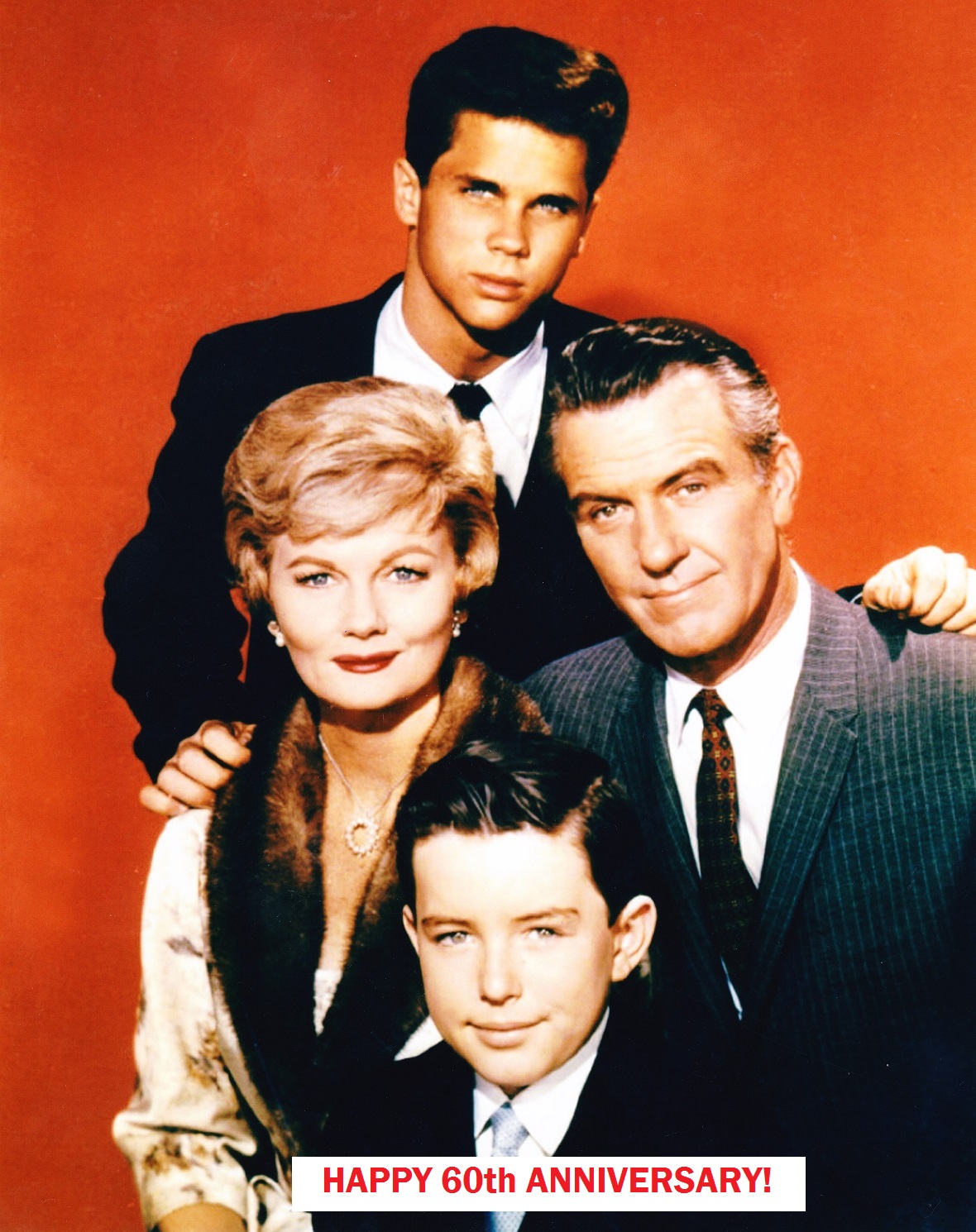 I will be doing a 2-hour radio tour and talk with hosts in 12 cities from 9am to 11am EST on February 16, 2017!  You can look at the chart below to see if I will be interviewed by a DJ in your city and at what time.  Hope you will tune in to hear me on this special radio tour event!!!
Time

Call Letters

Market

Hosts

Producer

9:00 AM ET
KQRS-FM

Minneapolis, MN

Hosts:  Tom Barnard and John Lassman

9:10 AM ET
WLUP-FM

Chicago, IL

Hosts:  Mancow and Al Roker Jr.

9:20 AM ET
KSKS-FM

Fresno, CA

Hosts:  Gnarley Charley and Jody Jo

9:30 AM ET
WACV-FM

Montgomery, AL

Host:  Greg Budell

9:40 AM ET
WQMZ-FM

Charlottesville, VA.

Host:  Sherry Taylor

9:50 AM ET
WCSX-FM

Detroit, MI

Hosts:  Jim O'Brien and Trudi

10:00 AM ET
WEIO-FM

Jackson, TN

Hosts:  Kelly and Ken

10:10 AM ET
WNNX-FM

Atlanta, GA

Hosts:  Baily and Southside

10:20 AM ET
WBYR-FM

Ft. Wayne, IN

Hosts:  John Arroyo and Heather Rooney

10:30 AM ET
WGIR-FM

Boston, MA

Host:  Greg Kretschmar

10:40 AM ET
WPYO-FM

Orlando, FL

Hosts:  Obie and Lil' Shawn

10:50 AM ET
WZTC-FM

Traverse City, MI

Host:  Finster
Here I am in a Halloween episode titled "Halloween Party" on the television program "The Adventures of Ozzie and Harriet." I filmed this before I was in Leave it to Beaver!
The Adventures of Ozzie and Harriet is an American sitcom, airing on ABC from October 3, 1952, through April 23, 1966, starring the real-life Nelson family. After a long run on radio, the show was brought to television, where it continued its success, initially running simultaneously on radio and television. The series stars Ozzie Nelson and his wife, singer Harriet Nelson, and their young sons, David and Eric "Ricky" Nelson,
The Twist (1960) by the great Chubby Checker. Video includes dance clips from the early 60's along with movie and television scenes.
Is this twisted or what?  Take a look at the dude with the moves at time code 1:10!
"Leave It To Beaver" icon will speak at Indiana Tech University
Indiana Tech University news – February 9, 2016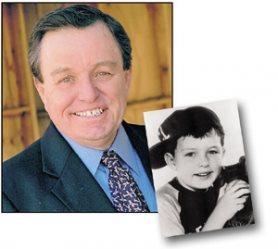 American television icon, Jerry Mathers, better known as The Beaver from the late-50s/early-60s television series "Leave It To Beaver," will be the speaker for Indiana Tech's commencement at Allen County War Memorial Coliseum on Saturday, May 14, at 10:30 a.m.
Mathers entered the hearts and homes of America in 1957 as Theodore "Beaver" Cleaver. An immediate success, the show gained national attention and ran for six seasons, totaling 234 episodes. In addition to his noted works as a television actor, Mr. Mathers achieved great success on the big screen and on stage. In fact, he made his Broadway debut in 2007 as Wilbur Turnblad in the Tony-winning musical "Hairspray" at the Neil Simon Theater.
In the mid-1990s, Mr. Mathers was diagnosed with Type 2 diabetes. He took preventive action, lost 55 pounds and is currently one of the leading lecturers on living with and dealing with diabetes. He has been invited to share his experience with diabetes on "Larry King Live" numerous times and has spoken to the congressional caucus on diabetes at the Capitol. Jerry also speaks with the media to alert individuals about the importance of early diagnosis, diet and exercise and the proper treatment of diabetes.
In 2009 and 2010, Jerry was the national spokesperson for PhRMA and their Partnership for Prescription Assistance program. This organization helps uninsured and financially struggling patients obtain prescription medicines for free or at a lower cost. The program is a nationwide effort, sponsored by America's pharmaceutical research and manufacturing companies to raise awareness of patient assistance programs and address the rising rates of chronic disease.
"Indiana Tech is pleased to have television icon and worldwide champion for those with diabetes, Jerry Mathers, join us as this year's commencement speaker," said Indiana Tech President Arthur E. Snyder. "We look forward to having him join us on our university's biggest day of the year to share his inspirational message with our students."
Leave it to Beaver – "Beaver Fever" t-shirts, sweatshirts and hoodies for my LITB fans!
I will be speaking at the 2016 Florida Chautauqua Assembly on January 29th in DeFuniak Springs (Walton County) Florida. Hope you can attend, and here is a link to view additional info about this exciting 4-day event… http://floridachautauquaassembly.org/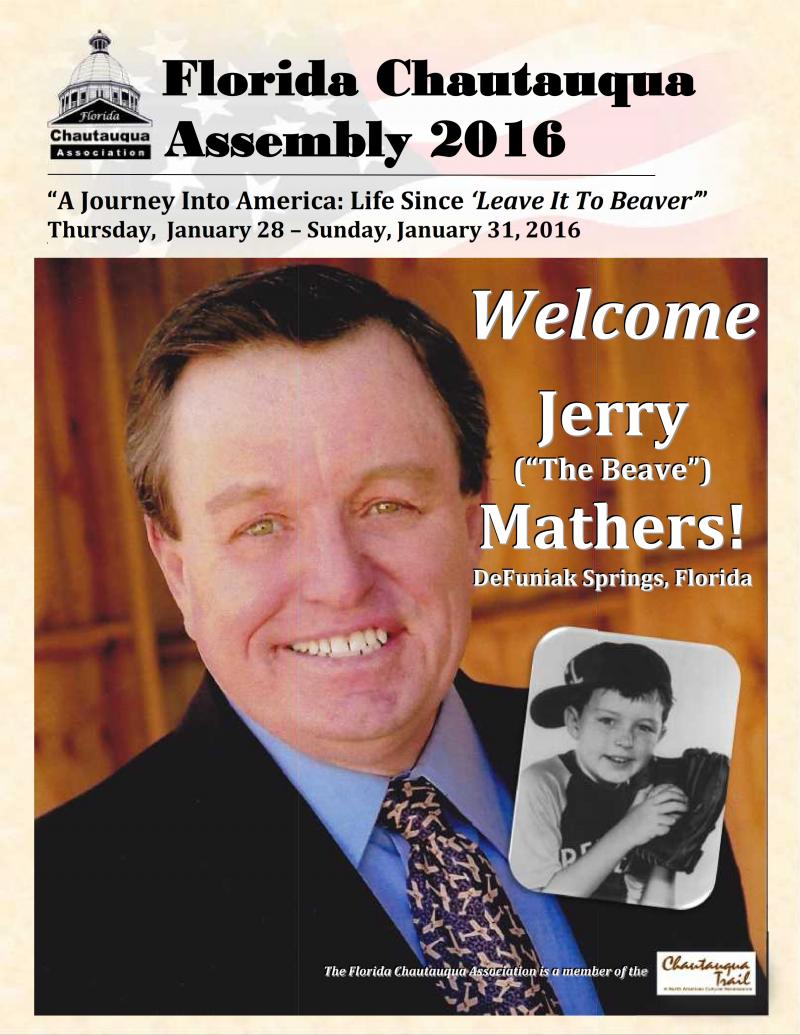 Here is my interview about my audition for Leave it to Beaver.  This was produced for the Archive of American Television by the Academy of Television Arts & Sciences.
Here are photos from the Love, Shirley Temple event I attended on June 3, 2015 at the Santa Monica History Museum. There were so many beautiful costumes from Shirley's films.  Her mother actually had it written into her contracts that she was allowed to keep the clothes that she wore.  The red carpet photo includes from left to right Kate Linder, me, Margaret O'Brien, Steve Railsback, Gigi Perrault and Kevin Dobson.  There is also a photo of Shirley's children, Susan Black-Falaschi and Charles Black Jr.  and a photo of actress Jane Withers holding a picture of her and Shirley together.
The event is scheduled through June 10th.
As most people know, Tony Dow was my big brother on Leave it to Beaver.  Ironically, he was really "the Beaver" in his real life family because he only had an older brother and he was the youngest.  I on the other hand was the eldest of my 4 siblings so I actually was the "Wally" in my real family.
How Tony Dow got the part on Leave it to Beaver
Tony was a phenomenal athlete and had trained to be a swimmer and diver from a very early age.  He received many accolades and awards through the Amateur Athletic Union (AAU) including Junior Olympics diving champion.  Before Leave it to Beaver, he had hopes of someday competing in the Olympics.  Although I had been an actor since the age of 2 years old, Tony's only acting job prior to Leave it to Beaver was in a pilot for a television series similar to Tarzan where he played the "Boy" character.  The show did not sell and Tony's second foray into acting on television was in Leave it to Beaver.  He wasn't in our original pilot which was called "It's a Small World."  The boy who played Wally grew about 5 inches between the time the pilot was filmed and we went into production of the series.  He was almost as tall as Hugh Beaumont so the producers decided to put out another casting call for a boy who was more height appropriate for that age.  Tony's true life ability as an athlete was a perfect fit for Wally, he was cast for the part, and the rest is television history!
– Leave it to Beaver DVD's, Jerry Mathers movies, and other favorite tv shows!  www.jerrymathers.com/dvds-and-more/