Steve Talbot – My Leave it to Beaver Pal!
Happy Birthday Steve!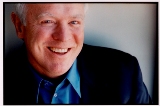 Hey Jerry, thanks for the birthday greetings, my friend. Unbelievably, I have now reached that age immortalized by the Beatles — "Will you still need me? Will you still feed me? When I'm 64," an age that seemed impossibly distant when I was playing the role of your pal, Gilbert. What's amazing to me is how vividly I remember our days at Republic Studio and then at Universal, where we'd see people like Alfred Hitchcock in the commissary or rummage through the monster masks in the costume department.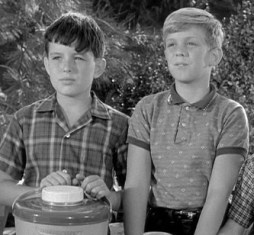 I've been thinking a lot about my Hollywood past these days because my youngest sister, Margaret Talbot, who is a staff writer at The New Yorker magazine, just wrote a book about our father, Lyle Talbot, who, as you know, had a long career as a stage, film and TV actor. The book is called, "The Entertainer: Movies, Magic and My Father's Twentieth Century." She even includes an analysis and appreciation of  "Leave it to Beaver," which she watches in re-runs with her son and daughter.
One thing that seemed totally normal back then, but strikes me as pretty unusual now is that while I was your pal on "Leave it to Beaver," my Dad (who was also in several "Beaver" episodes) was playing Ozzie's best friend and neighbor, Joe Randolph, on "The Adventures of Ozzie and Harriet." So, my Dad and I were sidekicks on two of the most iconic American shows about suburban life in the Eisenhower and Kennedy era.
I'm hardly the first to say it, but one of the real distinctions of "Leave it to Beaver" was its portrayal of life in the 'burbs from the point of view of the kids, something the show captured very well. It's a baby boomer time capsule in black & white.
So, what have I been doing for the past 50 years?  I became a reporter and a producer of TV documentaries, first for KQED in San Francisco, and then the PBS series, Frontline. I'm now producing a music show for PBS called "Sound Tracks: Music Without Borders" and I'm a senior producer at the Center for Investigative Reporting in Berkeley (right down the street from your alma mater). My wife, Pippa, and I have lived in San Francisco for over 30 years, and our two grown kids, Dash, a lawyer, and Caitlin, a yoga teacher and actress, both live in L.A.
I have very fond memories of working on the show with you, Tony Dow and the whole cast.  I was lucky to have been a part of it all.
Steve Talbot
72 Responses to Steve Talbot – My Leave it to Beaver Pal!