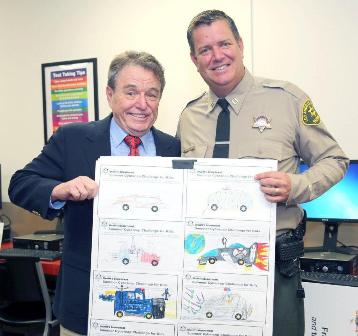 Summer Cybercop Challenge for Kids
The Los Angeles County Sheriff's Fraud & Cyber Crimes Bureau and the Sheriff's Youth Foundation are conducting the Summer Cybercop Challenge for Kids.  Children entering grades 1–12 are invited to participate in this contest which aims to raise awareness regarding cyber crime, its dangers and its prevention.  Winning entries and their respective schools will receive valuable prizes.
The Challenge is broken into three age based categories that include coloring, an essay contest and a computer based project.
Junior Category asks children entering grades 1-6 to draw their "Dream Cybercop Car."
Intermediate Category asks kids entering grades 7-9 to submit a 1,500 word essay on "How would you identify, stop and prevent someone from cyber bullying you or a friend?"
Senior Category engages students entering grades 10-12 to individually, or as a small team, develop and submit a 2-5 minute Public Service Announcement video that addresses issues relating to cyberbullying.
The top three entries in each category and their respective schools will be awarded valuable prizes.  There is no cost to participate.
Contest entries, rules, details and associated materials can be obtained at:
http://lasd.co/cybercontest2014
Here is the info for the Neuropathy Action Foundation luncheon/seminars on June 11th at the Intercontinental Hotel in Los Angeles. I will be receiving the "You Are Our Hero" award and I would love to see you there!
Copy and paste the link below into your browser for more information and the registration form:
www.neuropathyaction.org/downloads/NAF_AwarenessDayProgramv5.pdf

Take me out to the ball game!
June 13, 2014
Come on out to see me on Friday, June 13, 2014 at the San Rafael Pacifics baseball (minor league) game at Albert Park in San Rafael, California!  The game starts at 7:05 pm and the team is playing the Pittsburgh Mettle.
I'll be throwing out the first pitch (hopefully I'll get it close to home plate!) and then I'll be around for autographs and photos!
Hope you can join us — it will be a fun night!
Here is a link where you can buy tickets —  Copy and paste it into your browser:                   http://www.pacificsbaseball.com/index.php?option=com_content&view=article&id=460&Itemid=234
Here is my appearance on the Ken Boxer Live show in Santa Barbara, CA.  I had a great time talking with Ken and enjoyed meeting his talented crew!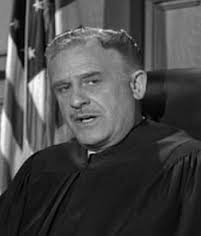 Frank Wilcox Film Festival
March 21-22, 2014 in De Soto, Missouri
Frank Wilcox was an American character actor who made appearances in more than 150 films and nearly 200 episodes of television programs.  I remember him as a very kind man when he worked with us on three episodes of Leave it to Beaver which included:
The State Versus Beaver (1958) … District Court Judge
The Tooth (1959) … Dr. Frederick W. Harrison, DDS
Eddie Quits School (1962) … Mr. Farmer
Frank's best known television role was that of the oil executive John Brewster in the first season of the CBS sitcom, The Beverly Hillbillies.  He also played many other memorable characters in The Donna Reed Show, The Real McCoys, I Love Lucy, George Burns and Gracie Allen, Perry Mason, The Untouchables, The Munsters, and The Lone Ranger, to name only a few!
Some of Frank's most famous film roles include They Died with Their Boots On, Santa Fe Trail, and The Greatest Show on Earth starring Charlton Heston.
The second-annul Frank Wilcox Film Festival will kick off on March 21-22, 2014, in De Soto, Missouri which was Frank's birth place.  Come join us!
Santa Claus Lane Parade 1960!
Here is vintage footage of the Santa Claus Lane parade in 1960.  You will see Barbara Billingsley, Tony Dow and me at 12:12 in the video.  Hugh Beaumont was in Minnesota at his property where he grew Christmas trees.  He brought them out to Los Angeles and sold them at his Christmas tree lot.
This brings back lots of memories!  Who else in the parade do you remember?
Hollywood Christmas Parade 2013!
The City of Los Angeles will once again be presenting The Hollywood Christmas Parade!  This year is the 82nd anniversary of the parade, and it will be the best year yet!
Please come out to see Tony Dow, Ken Osmond and me (Jerry Mathers) on December 1st!  We will be riding together in the "Leave it to Beaver" car!  The parade will include Grand Marshall Buzz Aldrin, celebrities, marching bands, floats, giant balloons, lots of great entertainment and surprises!
WHEN
Sunday, December 1st, at 5:00 PM
WHERE
From the Heart of Hollywood!  Starting on Hollywood Blvd at Orange, the U-shaped parade route will travel east to Vine, south on Vine to Sunset Boulevard and west on Sunset, back to Orange.
If you need help managing diabetes, just Leave it to Beaver (and Christian Hospital)
9:30 – 11:30 am
Saturday, December 7, 2013
Christian Hospital
Paul F. Detrick Building, Ground Floor Atrium
11133 Dunn Road
St. Louis, Missouri 63136 USA
In the mid '90s, Jerry Mathers was diagnosed with type 2 diabetes. However, the former "Leave it to Beaver" star took preventive action and lost 55 lbs!  Today, Mathers is a leading speaker on living with diabetes. He partners with organizations like Christian Hospital to generate awareness of this epidemic. He has even spoken at the Congressional Caucus on diabetes, so we're proud to provide you with this opportunity to hear him in person.
The event is free but space is limited. Call 314.747.WELL (314.747.9355) or toll-free 877.747.9355 to reserve your place.
Here is an article written in the Magnolia Reporter in Arkansas on Nov. 6, 2013…
Jerry "Leave It to Beaver" Mathers
will speak in El Dorado on November 21
Classic TV legend Jerry Mathers, who played Theodore "Beaver" Cleaver on "Leave It to Beaver," will speak at the El Dorado Conference Center at 7 p.m. Thursday, Nov. 21.
Mathers' appearance is part of the eighth annual South Arkansas Community College Lecture Series. The event is free and open to the public.
"The Golden Age of Television and Media Trends Today" will include Mathers' behind-the-scenes stories about "Leave It to Beaver" and other projects as well as his thoughts on current trends in TV.
Born in 1948, Mathers began his show-business career at the age of 2 in a PET Condensed Milk commercial on "The Colgate Comedy Hour." He continued in minor roles as a child actor throughout the dawn of TV and made his movie debut in 1954 in "This Is My Love." He went on to co-star in Alfred Hitchock's "The Trouble With Harry" and "The Seven Little Foys" with Bob Hope, among several other film roles throughout the mid 1950s.
Mathers reached a higher level of stardom upon being cast as the Beaver in 1957.
"Leave It to Beaver" is one of the most beloved TV series of all time and often is used as a perfect example of 1950s Americana. Even though its original broadcast run ended in 1963, the half-hour comedy hardly ever has been off of the small screen since; on its 50th anniversary it was noted as the longest-running scripted show in TV history.
It also crosses cultural lines well enough that it has been shown in more than 80 countries and translated into 40 languages.
Nostalgia for the era led to a revival with "The New Leave It to Beaver" in 1984, featuring Mathers and most of the original cast. The series aired until 1989. Mathers directed some episodes.
"Leave It to Beaver" charted on Time magazine's "100 Best TV Shows of All-Time"; Mathers himself was named as one of the most well-known individuals in TV history by People magazine.
In addition to speaking, Mathers still does some acting, including TV, film and stage roles. In 2007 he debuted on Broadway in "Hairspray," portraying Wilbur Turnblad.
A type-2 diabetic, Mathers often is a spokesperson for diabetes awareness, even addressing the U.S. Congress on the topic.
Mathers' talk will be followed by a question-and-answer session and a reception.
For additional information about the Lecture Series, call (870) 864-7156.