tjmathers
Here is a tribute to some of the great TV moms!  Who are some of your favorites?
Remembering TV mothers
June Cleaver, portrayed by Barbara Billingsley, talks with her son, Beaver, played by Jerry Mathers in an episode of "Leave it to Beaver." (Special photo)
From left are Mackenzie Phillips, Ann Romano and Valerie Bertinelli of "One Day At A Time." (Special photo)
Phylicia Rashad and Keshia Knight Pulliam starred as Claire and Rudy Huxtable on "The Cosby Show." (Special photo)
Wendi McLendon-Covey's Beverly Goldberg masters the art of "smothering" on "The Goldbergs." (Special photo)
The Ingalls family of "Little House on the Prairie," was led by matriarch Caroline Ingalls, played by Karen Grassle. (Special photo)
Happy Mother's Day to one and all; enjoy this very special day with your mom. Remember the good times and how she helped shape your life. If you are blessed to be able to spend this day with your mother, treat it as a special gift because that's precisely what it is.
Lavish her with love and affection because the day will come when you wish you could.
Believe me, I know.
And, remember, the most important thing you can give her is your presence and not presents.
In addition to our biological mothers, there have been a lot of moms who entered our houses on a regular basis during the past six decades through the medium of television.
Some were kind, caring and loving.
Others were off the proverbial wall.
Here is a list of some of the best-known TV mothers who spent time with us on a weekly basis.
Hope you enjoy the trip down television's memory lane with some of the medium's most renowned mothers and their children.
The list starts with Gertrude Berg as Molly Goldberg, believed to be television's first mother, in "The Goldbergs." The show first aired in 1949 – a whopping 65 years ago. The list concludes with Wendy McLendon-Covey who plays Beverly Goldberg on "The Goldbergs," the highly rated first-year series.
The list is in chronological order and includes shows from the major networks and excludes animated series.
Molly Goldberg (Gertrude Berg) – "The Goldbergs," 1949-54. Child: Sammy (Larry Robinson).
Gracie Allen (herself) – "George Burns & Gracie Allen Show," 1950-58. Child: Ronnie (himself).
Lucy Ricardo (Lucille Ball) – "I Love Lucy" 1951-57. Child: Little Ricky (Joseph A. Mayer and Michael Mayer).
Harriet Nelson (played herself) — "The Adventures of Ozzie & Harriet," 1952-66. Children: David and Ricky (played themselves).
Margaret Anderson (Jane Wyatt) – "Father Knows Best" 1954-60. Children: Betty (Elinor Donahue), Bud (Billy Gray) and Kathy (Lauren Chapin).
June Cleaver (Barbara Billingsley) – "Leave it to Beaver" 1957-63. Children: Wally (Tony Dow) and Theodore "Beaver" (Jerry Mathers).
Donna Stone (Donna Reed) – "The Donna Reed Show" 1958-66. Children: Mary (Shelly Fabares), Jeff (Paul Petersen) and Trisha (Patty Petersen).
Laurie Petrie (Mary Tyler Moore) – "Dick Van Dyke Show" 1961-66. Child: Richie (Larry Mathews),
Samantha Stevens (Elizabeth Montgomery) – "Bewitched" 1964-72. Child: Tabitha (Erin Murphy).
Carol Brady (Florence Henderson) – "The Brady Bunch" 1969-74. Children: Marcia (Maureen McCormick), Jan (Eve Plumb), Cindy (Susan Olsen), Greg (Barry Williams), Peter (Christopher Knight) and Bobby (Mike Lookinland).
Shirley Partridge (Shirley Jones) – "The Partridge Family" 1970-74. Children: Keith (David Cassidy), Laurie (Susan Dey), Danny (Danny Bonaduce), Tracy (Suzanne Crough) and Chris (Brian Forster).
Edith Bunker (Jean Stapleton) – "All in the Family" 1971-79. Child: Gloria (Sally Struthers).
Olivia Walton (Miss Michael Learned) – "The Waltons" 1971-81. Children: John-Boy (Richard Thomas and Robert Wightman), Jason (Jon Walmsley), Mary Ellen (Judy Norton), Ben (Eric Scott), Erin (Mary McDonough), Jim-Bob (David W. Harper) and Elizabeth (Kami Cotler).
Florida Evans (Esther Rolle) – "Good Times" 1974-79. Children: JJ (Jimmie Walker), Thelma (BernNadette Stanis) and Michael (Ralph Carter).
Marion Cunningham (Marion Ross) – "Happy Days" 1974-84. Children: Chuck (Gavan O'Herlihy), Richie (Ron Howard) and Joanie (Erin Moran).
Caroline Ingalls (Karen Grassle) – "Little House on the Prairie" 1974-83. Children: Mary (Melissa Sue Anderson), Laura (Melissa Gilbert) and Carrie (Lindsay and Sidney Greenbush).
Ann Romano (Bonnie Franklin) – "One day at a Time" 1975-84. Children: Julie (Mackenzie Phillips) and Barbara (Valerie Bertinelli).
Kate Lawrence (Sada Thompson) – "Family" 1976-80. Children: Nancy (Meredith Baxter Birney), Willie (Gary Frank) and Buddy (Kristry McNichol).
Elyse Keaton (Meredith Baxter) – "Family Ties" 1982-89. Children: Alex (Michael J. Fox), Mallory (Justine Bateman) and Jennifer (Tina Yothers),
Clair Huxtable (Phylicia Rashad) – "The Cosby Show" 1984-92. Children: Sondra (Sabrina LeBeauf), Denise (Lisa Bonet), Theo (Malcolm-Jamal Warner), Vanessa (Tempestt Bledsoe) and Rudy (Keshia Knight Pulliam).
Angela Bower (Judith Light) – "Who's the Boss?" 1984-92. Child: Jonathan (Danny Pintauro).
Maggie Malone Seaver (Joanna Kerns) – "Growing Pains" 1985-92. Children: Mike (Kirk Cameron), Carol (Tracey Gold), Ben (Jeremy Miller) and Chrissy (Ashley Johnson).
Peg Bundy (Katey Sagal) – "Married … With Children" 1987-97. Children: Kelly (Christina Applegate) and Bud (David Faustino).
Norma Arnold (Alley Mills) – "The Wonder Years" 1988-93. Children: Karen (Oliva d'Abo), Wayne (Jason Hervey) and Kevin (Fred Savage).
Roseanne Conner (Roseanne Barr) – "Roseanne" 1988-97. Children: Becky, (Alicia Goranson), Darlene (Sara Gilbert), and D.J. (Michael Fishman).
Katharine Howser (Belinda Montgomery) – "Doogie Howser" M.D. 1989-93. Child: Doogie (Neil Patrick Harris).
Vivian Banks (Janet Hubert-Whitten and Daphne Maxwell Reid) – "Fresh Prince of Bel-Air" 1990-96. Children: Carlton (Alfonso Ribeiro), Hillary (Karyn Parsons) and Ashley (Tatyana M. Ali).
Jill Taylor (Patricia Richardson) – "Home Improvement" 1991-99. Children: Brad (Zachery Ty Bryan), Randy (Jonathan Taylor Thomas) and Mark (Taran Noah Smith).
Nora Walker (Sally Field) – "Brothers & Sisters" 2006-2011. Children: Kitty (Calista Flockhart), Sarah (Rachel Griffiths), Kevin (Matthew Rhys), Tommy (Balthazar Getty) and Justin (Dave Annable).
Claire Dunphy (Julie Bowen) — "Modern Family" 2009-present. Children: Alex (Ariel Winter), Haley (Sarah Hyland) and Luke (Nolan Gould).
Beverly Goldberg (Wendy McLendon-Covey) — "The Goldbergs" 2013-present. Children: Adam (Sean Giambrone), Barry (Troy Gentile) and Erica (Haley Orrantia).
Here's my interview with Ashley Dvorkin for their Fox News "Throwback Thursday" segment!  
Had a great time on the set!
The Cloister – Sea Island, Georgia
Please join me and my friends Ed Asner (Mary Tyler Moore), Dawn Wells (Gilligan's Island) and Bob Eubanks (The Newlywed Game) at The Cloister at Sea Island, Georgia January 16-18 for their Classic TV Weekend.  You can read about the fun activities in the New York Times article below.  And, for additional information please check The Cloister website at: www.seaisland.com/activities/sea-island-events#Classic-TV-Weekend.  Hope to see you there!!!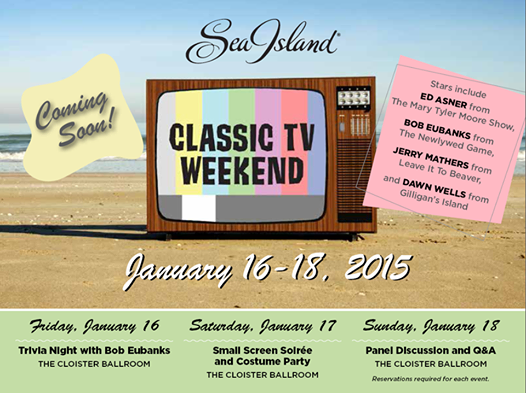 Interesting facts about the Leave it to Beaver series!
Here is a wonderful tribute by Bobby Hay to the child actors we grew up with, many who are my real life friends.  How many do you recognize?
The annual Pageant of the Masters in Laguna Beach, California.  Definitely one for the bucket list — a must see!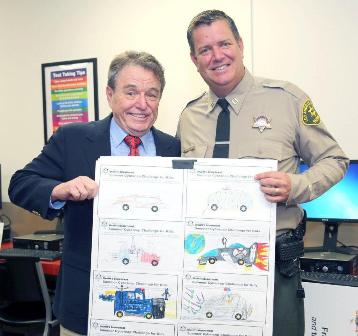 Summer Cybercop Challenge for Kids
The Los Angeles County Sheriff's Fraud & Cyber Crimes Bureau and the Sheriff's Youth Foundation are conducting the Summer Cybercop Challenge for Kids.  Children entering grades 1–12 are invited to participate in this contest which aims to raise awareness regarding cyber crime, its dangers and its prevention.  Winning entries and their respective schools will receive valuable prizes.
The Challenge is broken into three age based categories that include coloring, an essay contest and a computer based project.
Junior Category asks children entering grades 1-6 to draw their "Dream Cybercop Car."
Intermediate Category asks kids entering grades 7-9 to submit a 1,500 word essay on "How would you identify, stop and prevent someone from cyber bullying you or a friend?"
Senior Category engages students entering grades 10-12 to individually, or as a small team, develop and submit a 2-5 minute Public Service Announcement video that addresses issues relating to cyberbullying.
The top three entries in each category and their respective schools will be awarded valuable prizes.  There is no cost to participate.
Contest entries, rules, details and associated materials can be obtained at:
http://lasd.co/cybercontest2014
Here is the info for the Neuropathy Action Foundation luncheon/seminars on June 11th at the Intercontinental Hotel in Los Angeles. I will be receiving the "You Are Our Hero" award and I would love to see you there!
Copy and paste the link below into your browser for more information and the registration form:
www.neuropathyaction.org/downloads/NAF_AwarenessDayProgramv5.pdf

Take me out to the ball game!
June 13, 2014
Come on out to see me on Friday, June 13, 2014 at the San Rafael Pacifics baseball (minor league) game at Albert Park in San Rafael, California!  The game starts at 7:05 pm and the team is playing the Pittsburgh Mettle.
I'll be throwing out the first pitch (hopefully I'll get it close to home plate!) and then I'll be around for autographs and photos!
Hope you can join us — it will be a fun night!
Here is a link where you can buy tickets —  Copy and paste it into your browser:                   http://www.pacificsbaseball.com/index.php?option=com_content&view=article&id=460&Itemid=234
Here is my appearance on the Ken Boxer Live show in Santa Barbara, CA.  I had a great time talking with Ken and enjoyed meeting his talented crew!